Podiatrists in Evanston, IL
Robert Gerber, DPM, FACFAS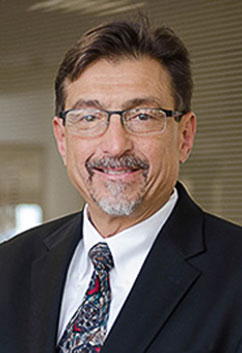 Robert Gerber, DPM, FACFAS
Robert Gerber, DPM is an esteemed podiatric physician and board certified foot surgeon with 38 years of experience.
Dr. Gerber graduated with honors from Northeastern Illinois University in Chicago, IL in 1979 with degrees in biology and the physical sciences. In 1983, Dr. Gerber went on to receive a doctorate of podiatric medicine (DPM) from the Illinois College of Podiatric Medicine, and then completed surgical training at Thorek Memorial Hospital in Chicago, IL.
Dr. Gerber is currently a member of the surgical orthopedic staff at AMITA Health Saint Francis Hospital Evanston, Northshore Hospital Systems, Thorek Memorial Hospital and Methodist Hospital in Chicago. He is board certified in foot surgery by the American Board of Foot and Ankle Surgery. He is a member of both the Illinois Podiatric Medical Association and the American Podiatric Medical Association.
Dr. Gerber's philosophy of practice is to educate the patient about treatment options and deliver the best foot care possible, specifically suited to the patient. Dr. Gerber enjoys an active lifestyle and fully understands how important healthy feet are to the patient.
Neha Singla Jani, DPM
Neha Singla Jani, DPM
Dr. Neha Jani is board qualified by the American Board of Foot and Ankle Surgery.
She moved to Chicago from India at a young age to pursue higher education. She graduated with honors from Loyola University Chicago with a Bachelor of Science in Biology. Following her undergraduate studies, she worked as a full-time research assistant at Rush University Medical Center learning the importance of practicing evidence-based medicine. Dr. Jani earned her Doctorate of Podiatric Medicine from Scholl College of Podiatric Medicine where she was inducted into the Pi Delta National Honor Society and received several scholarships for her outstanding scholastic achievement, graduating at the top of her class.
Dr. Jani completed her three-year postdoctoral surgical residency training at Loyola University Medical Center/Hines VA Hospital where she served as the Chief Resident. In her time there, she received extensive training while working with some of the top Podiatric, Orthopedic, and Vascular Surgeons in the nation. Her special training and professional interests include reconstructive foot/ankle surgery, limb salvage/infections of the lower extremity, trauma, wound care, pediatric foot care and sports injuries. Dr. Jani's philosophy is to use shared decision making by educating her patients about their condition and empowering them to take advantage of preventative medicine. She takes pride in her ability to give all of her patients attention, compassion and professionalism.
Dr. Jani has a passion for teaching and strives to continue to incorporate this in her practice. When not practicing medicine, she enjoys traveling with her husband, learning to make new cuisines and spending time with family and friends. Dr. Jani is fluent in English, Hindi, Punjabi, Urdu and has working proficiency in Spanish.